ILFI and Passive House Announce New Crosswalk
When ILFI's Andy Lee stepped off the podium at the Net Zero 2018 Conference, Camille Sifferlen of the Passive House Institute (PHI) was there, ready to talk partnership. What she heard during his Zero Energy Accelerator course made it clear that the mission of both organizations would be furthered by working together. PHI's certification (PH) emphasizes super high energy efficiency based on detailed energy modeling. ILFI's Zero Energy(ZE) certification, on the other hand, has no efficiency criteria but requires documentation that all energy use is offset by renewables over a year-long performance period. For projects that achieved certification under both programs, the low energy consumption of PH facilitates achievement of ZE and the performance data generated by ZE can validate the PH modeling.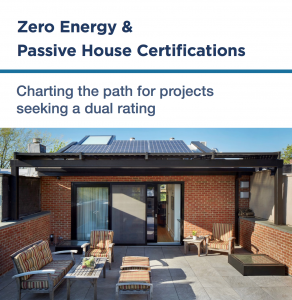 It was agreed that the two organizations should collaborate on a Crosswalk, a guidebook to support certification under both programs highlighting similarities and differences between requirements, and underscoring elements that need to be factored in early. As a certified Passive House Consultant in the US, Patsy Heasley of ILFI was brought in to help on the technical side. Using the basic structure of Crosswalks that had already been developed between the Australian Green Star Program and both the Living Building Challenge and Passive House, the team scheduled a series of monthly calls bridging the 9 hour time difference between Seattle and Darmstadt and got to work.
Pretty quickly they realized that this Crosswalk might need to be a little different from most. Whereas other Crosswalks tell you how far certification under one program gets you in terms of certification under the other, the structure of PH and ZE don't really allow that kind of direct comparison. In one sense, the Zero Energy standard picks up where the Passive House standard leaves off; while PH with renewables is an optimum design and construction path to ZE, ZE certification then requires the operational data.
The approach to this Crosswalk then was to simply highlight the principal requirements of each program and explain how they relate. For example, while PH has no requirements around a zero energy balance, the results of its modeling tool can be used to inform sizing of the renewables for the net zero balance required by ZE.
The process also underscored their sense that dual certification brings out the best in each program. Buildings that design and build to the PH standard and then pursue ZE with renewables not only have the best chance of achieving ZE, but if successful, are the ultimate low energy buildings. The more the performance data required by ZE certification validates the PH design and modeling approach, the more solidified the case for PH becomes. And so on, as more buildings achieve both certifications, their outcomes and value are mutually reinforced. And in the end, the real winner is the planet.
To download the ZE/PH Crosswalk, visit our website here.